Author of the article:
Publishing date:
Aug 18, 2022 • August 18, 2022 • 2 minute read • Join the conversation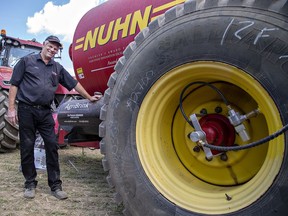 Heavy equipment used in agriculture can have a major impact on crop yield.
About 175 farmers gathered at Snobelen Farms on Highway 2 near Langford Thursday to learn about the impact of soil compaction.
Peter Johnson, an agronomist with Real Agriculture, described perfect soil as being 25 per cent water, 25 per cent air and 50 per cent solids.
"When we are in the field with this heavy equipment something has to bear that load," he said, adding that increases in vehicle and load weights, and tire pressures, results in squishing the pores, hindering the plant's ability for roots to reach the nutrients.
"It's a significant issue in agriculture," said Johnson. "We estimate that we could be losing as much as 20 per cent of our yield due to compaction. That's massive."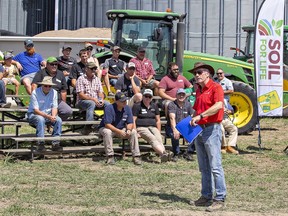 Representatives from the Brant and Hamilton-Wentworth Soil and Crop Association, the Ontario Compaction team, Ministry of Agriculture, Food and Rural Affairs, and the Ontario Soil and Crop Improvement Association pooled their efforts to demonstrate compaction by burying sensors in the ground at 6-, 12- and 20-inches depth.
Vehicles with various types of tires or tracks were driven over the sensors with the graphical data shown on a large screen so farmers could visualize the effects of compaction.
"You can compact soil in a second, but it takes generations to alleviate the compaction that you've created," noted Jackson, who farms in Lucan, Ontario and has been a cereal specialist for OMAFRA for 30 years. "It's kind of like a silent yield robbery. You never see it, but it has huge implications."
Newer technology has resulted in ways in which compaction can be reduced, as tire companies moved from bias ply to radial tires, and now increased flex (IF) and very high (VF) sidewall flexibility tires.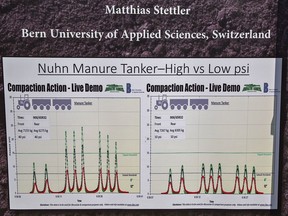 OSCIA vice-president Steve Sickle farms in the Glenn Morris area and utilizes a central tire inflation system on some of his farm equipment.
"You can lower your tire pressure in the field to mitigate some tire compaction issues, but then you increase it so you're safe on the road," he said. "You save fuel in the field and on the road, and you save tire life as well."
The tractor is outfitted with a compressor, and air lines to all of the vehicle's tires. A control panel allows the operator to increase or decrease tire pressure with the flip of a switch.
"Days like today can show us advantages or disadvantages of some of our past use of equipment," said Barry McBlain, who grows corn, soybeans, oats, and wheat near Middleport. "There's new technology coming down the pipe with air inflation and it definitely makes a big difference on growing crops and being able to maintain a healthy soil. This is actually very interesting research."
bethompson@postmedia.com