January 15, 2021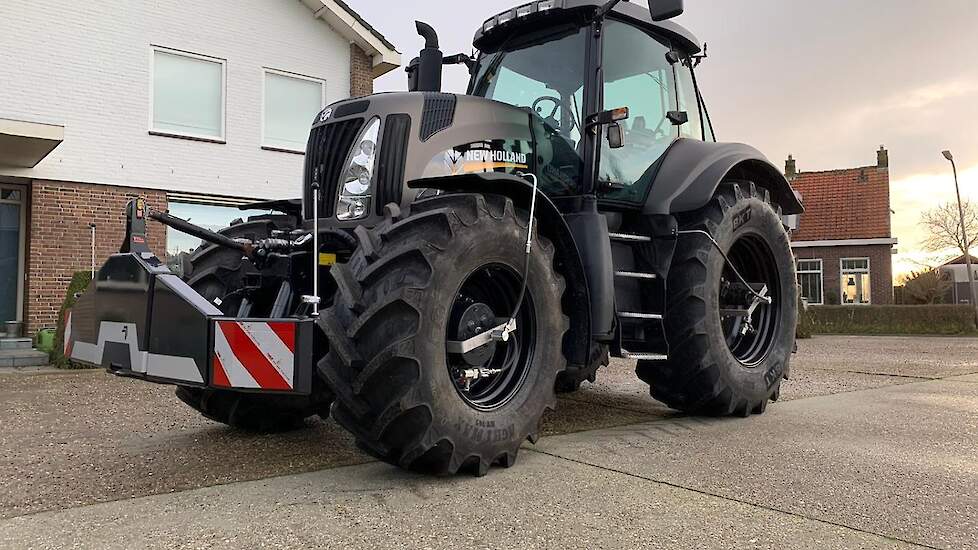 South West Tire Reaction Zuid West Banden in Klaaswaal (ZH) has become the importer of Agribrink's Canadian tire pressure exchange system. It does this in collaboration with Troost and Van Gurp in Stad aan 't Haringvliet (ZH).
The Canadian system differs from other systems by the rapid time it takes to lower the tire pressure. According to the manufacturer, this happens in just a quarter of the time compared to other systems.
The system consists of a hydraulically driven compressor with a capacity of 1,400 l / min and a buffer tank. The pipes to the tires run outside. The swivels and valves have proven themselves in the North American transportation industry. Operation is via a simple box and the tire pressure can be read on a monitor in the cabin. The system can also be operated via Isobus. Just one push of a button is enough to increase or decrease the voltage to preset values.
The compressor that comes in the bumper produces 5500 liters per minute. This bumper will be built on this New Holland demo in the coming weeks. In addition to this large 5500 liter compressor version, there is also a smaller 2800 liter variant.
According to the manufacturer, the system provides a 4 percent increase in yield due to less structural deterioration and compaction, tires last 20 percent longer by using the correct pressure during transport and field work, and using the correct pressure also results in a fuel saving of 15 percent. More than 100 Agribrink pressure exchange systems are now operating in North America.
Original Source:
www.trekkerweb.nl/artikel/383470-zuid-west-banden-importeert-agribrink-bandendruksysteem/?fbclid=IwAR07O_Vr3W7RAJPHdQQaVL3hyW5jRdJW7wbq6UysBWbFXON9S7MjPm01ObI
Zuid West Banden imports Agribrink tire pressure system
Zuid West Banden in Klaaswaal (ZH) is importeur geworden van het Canadese bandendrukwisselsysteem van Agribrink. Het doet dit in samenwerking met Troost en Van Gurp in Stad aan 't Haringvliet (ZH).
Het Canadese systeem onderscheidt zich van andere systemen door de snelle tijd van het verlagen van de bandenspanning. Volgens de fabrikant gebeurt dat in slechts een kwart van de tijd vergeleken met andere systemen.
Het systeem bestaat uit een hydraulisch aangedreven compressor met een capaciteit van 1.400 l/ min en een buffertank. De leidingen naar de banden lopen buitenom. De draaistukken en ventielen hebben zich ruimschoots bewezen in de Noord-Amerikaanse transportsector. De bediening loopt via een eenvoudig kastje en de bandenspanning kan worden afgelezen op een monitor in de cabine. Het systeem kan ook via Isobus worden bediend. Slechts één druk op de knop volstaat om de spanning te verhogen of te verlagen tot vooraf ingestelde waarden.
De compressor die in de bumper komt geeft 5500 liter per minuut. Deze bumper wordt op deze demo New Holland de komende weken opgebouwd. Naast deze grote 5500 liter compressor uitvoering is er ook een kleinere 2800 liter variant.
Volgens de fabrikant levert het systeem een opbrengstverhoging van 4 procent door minder structuurbederf en verdichting, gaan banden 20 procent langer mee door het gebruik van de juiste spanning tijdens transport en veldwerk en zorgt het gebruik van de juiste spanning ook voor een brandstofbesparing van 15 procent. In Noord-Amerika draaien inmiddels meer dan 100 Agribrink-drukwisselsystemen.