Innovative technology to prevent compaction is particularly relevant as we inch towards the close of a wet harvest season 
Nov 21, 2019
By Jackie Clark
Staff Writer
Farms.com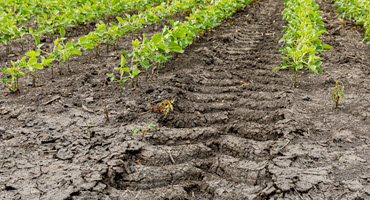 Across much of Ontario, the 2019 growing season was bookended by wet, sloppy soil conditions. As a result, some farmers are dealing with soil compaction.
"Compaction has two main components: moisture and weight," Jake Kraayenbrink, a farmer in Moorefield, Ontario, and president of Agribrink, told Farms.com. Agribrink has developed a tire pressure adjustment system for farm equipment.
But compaction isn't always top-of-mind for producers during a stressful harvest season.
"It's something that we don't necessarily see," Kraayenbrink said. "Our equipment is getting heavier year by year. We now have equipment big enough to go onto the land even though the land isn't ready for it. We have larger and larger acreage, and we (sometimes) move ahead to get the harvesting done in the fall not realizing the consequences."
Those consequences include altering soil structure that allows for drainage and effective nutrient absorption, as well as accelerated soil loss through erosion. "We change the whole physics of the soil when we compact it," he said.
Compaction problems are compounded by other concerns of soil degradation. "We are losing organic matter, which is what helps the soil to withstand issues. The impact of compaction gets greater," he added.
Kraayenbrink first became interested in protecting soil structure in the 1980s, when he was working for farmers who were conscious of pressure on tires and reducing weight on tractors as much as possible.
He could see the difference in fields. Through "all the hours that I spent working there, the risk of compaction was instilled in me," he said.
In 2009, Kraayenbrink was learning more about compaction and heard about tire-deflation technologies in the trucking industry. He partnered with Greg Stewart to investigate the potential of this technique in Ontario agriculture. They found funding, travelled to Europe to learn about existing systems, and eventually adapted a tire-pressure adjustment system from the trucking industry to speed up the process for an ag application.
Over the years, compaction mitigation technologies have become more prevalent in the industry.
"I saw a lot of tracks and a lot of deflation systems," at Agritechnica, the ag machinery trade show in Hanover, Germany, Kraayenbrink said. He is also involved in a three-year University of Guelph research project looking at the effects of tracks versus tires on soil.
In the future, farmers will increasingly consider compaction when making farm management decisions, Kraayenbrink believes.
"I think the biggest change has to be that people are starting to be aware," he said. "Topsoil is what feeds our people. (Compaction) is one of the top (factors) that affect your yield."